One of the toughest treks in the Garhwal Himalayan region, the Nandikund Trek that stretches from an elevation of 3,497 meters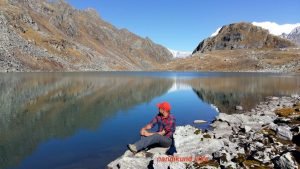 to 4,800 meters, is one of the least explored treks in the Indian Himalayan belt. Nandi Kund is a located approx. 4800 mts. in Madhymaheshwar – kalpeshwar trail. The trail commands a beautiful view of lush green meadows and high snow covered peaks. It is the source of River Madhyamaheshwar Ganga. The trekki
ng trail leading towards this revered lake marked with streams coming from the top, and you have to cross these streams to reach the Kund. The trail covers Madhymaheshwar, kachani Dhar, Pandav Sera, & Nandi Kund.
The trek to Nandikund commences from Ukhimath, which is easily accessible by road from Rishikesh. Next day we reach the ranshi village from ukhimath. There rankeshwari mai temple situated in the ranshi village of goddess rankeshwari.
1st day the trek start from the Ranshi village. We go through gaundar village which located close to Madhu Ganga river. There we stay at night.
2nd day And then we do trek 9 km to madmeshwar which is a zigzag trek to up. Madmeshwar is one of the temples in panch kedar. This is called the second kedar. In madmeshwer, there are hotel and lodge available. Then next morning we start trekking from kanchani point to madmeshwer.
3rd day we trek to pandav shera through up and down hills. A ridge on the way we find beautiful river fall at dw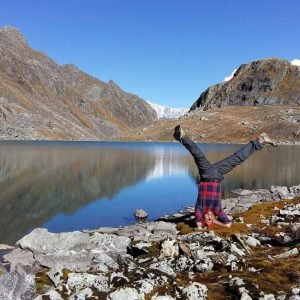 arighad. Then we reach pandav shera. Pandav shera is wide field area. There we stay for camping. This place belongs to Pandavas according to Indian mythology. There we can see weapons of pandavas. Ther we can also see the growing of paddy(rice) in the month of August. There is small canal which makes it a beautiful place.In the month of August- September we find beautiful holy flowers of 'brahm kamal'. Which is state flower of Uttarakhand state . in the month of July-August this flower is dedicated to god Shiva.
Padav shera is the main base of camping.
4th day Next morning we will be trekking to nandikund which is 3 km from pandav shera. Through boulder zone trek and steep walk till nandikund. We can stay there or see beauties of nadikund. Nandikund is clear crystal glacier's water. There are we also find some weapons of history .we also went to 'ghiya vinayak pass' which is approximately 2.5 km from nandi kund. Ghiya Vinaya pass is on the top. Through ghiya vinaya pass we can see nanda devi Himalayas range. If we can trek forward to urgham- kalpeshwer Temple. So, it will take approximately 7-8 days. We have done this trek it is beautiful trek we can see many animals between these treks. Then evening we turn back down to our camping base pandav shera .where we stay at overnight.
In the
5th day, we come back to 'kanchanidhar.'
6th day we reach at ransi village at the bus stop.