Deoriatal Lake is in an beautiful trek.The forest trails and the summit climb are unmatched from the Khiridhar (top) If you add to this the wintry, snowy setting, you will never want to leave this piece of heaven three things are really stunning about the Deoriatal to Chandrashila peak trek. Deoriatal is a lake located about 2.5 km on an uphill trek from the villages of Sari, on the Ukhimath-sari road in Uttarakhand.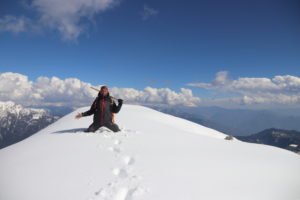 At an altitude of about 2438 meters, it has heavily wooded, lush green surroundings with snow-covered mountains in the backdrop. You can also see the beautiful reflections of kedaranath himalayan range including kedar peak, mandani peak,chukhamba peak in the morning time on the ake To begin the trek we take the section between Deoriatal lake, rohini bugyal and Bhrujgali camp near chopta, and it is sometimes stunning to imagine how much variety jungles – meadows in this place. There is dens forest with thickly wooded trees, and rhododendron trees, there are moss-covered trails through enveloping tunnels, and there are trails that weave through clearings in the jungles. And we camp bang in the middle of the forest in a wide open clearing at Rohini Bugyal.
Ensure that you take enough warm layers and keep your neck and ears covered. If you are interested in the trek from Deoriatal to Chopta, it is an easy trek as Chopta is at an altitude of 9400 feet.2700metrs It is a 16-kilometer trek and can be done easily in a day.
But we make it beautiful trek for 5-6 days . in which we stay or rove in beautiful place of Deoriatal
Day 1 we went Sari to Deoriatal which distance is 2.5 km,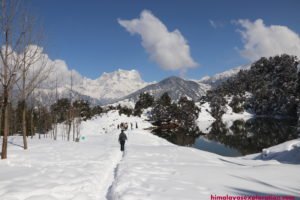 Day 2: Deoriatal to Rohini Bugyal ,meadows  trek distance is 8 km long. If you are trekking in winter, the campsite can get quite windy and moisture There we can see the different type of birds . in the month of March – April we can also see the full of blooming by rhododendron flowers. Its looks so beautiful everywhere red color of the flowers. We make bonfire overnight at rohini bugyal.
Day 3: Rohini Bugyal to Bhrujgali nearby chopta meadows. The distance make between this is 9 km,
Day 4: Bhrujgali to Tungnath and Chandrashila peak and back to Bhrujgali meadow. It take the distance of 7 km,
Day 5: we come back you can find vehicle for ukhimath or Rishikesh, deoriatal-rohini chandrashila trek 3 days trek per is person is 6500/ rupies for four people we start package from deoriatal lake to rohini chandrashila,  2nights in chopta and 1st day we receive to tourist in village of sari the base of deoriatal lake or somewhere nearby this, this trek is now only for three days because of now camping is strictly banned at rohini bugyal by forest department so now we make it three days trek first night camping in deoriatal lake and 2nd day same day straight 16km walk till chopta so two nights in chopta 3rd day trek to chandrashila peak and come down in chopta hillstation for stay so contact to us for Deoriatal Lake Guide package is available WhatsApp +919719875326