The Holy River Ganges is the most sacred river in the Hindu religion and its source at Gomukh at the Gangotri glacier. The glacier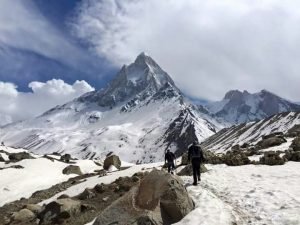 measures about 30 kilometers long. The Gangotri glacier surrounded by peaks belonging to the Gangotri Group of mountains, including some that pose a challenge to mountaineers, such as Shivling, Thalay Sagar, Meru, and Bhagirathi III. Gaumukh is one of the holiest places for Hindu pilgrims who come here to witness the birth of Mother Ganga. The trek takes one to Gomukh (cows mouth), the mythological source of the River Ganges, which is at the snout of the Gangotri glacier.
Day 01: Gangotri – Bhojwassa
Trek on the first day is along the roaring Ganga River. Bhojvasa is the last oasis on this route and has a lot of trees. From Chirvasa one continues to ascend higher towards Bhojwasa,- the last inhabited place on this route. A descent heralds the arrival at Bhojwasa, so to arrive at a small temple and a potential campsite near the river- the place to hit the sack for the night! Exploration of the surroundings and photography are a must do for the remainder of the day! Enjoy the excellent sunset on Bhagirathi group of peaks.
Day2: Bhojwassa – Gomukh
Enjoy the panoramic view of Bhagirathi group of peaks in the morning. Trek to Gomukh (3890mt), after that towards the source of the Ganges. Gomukh is the spot where the water of Ganga trickles down from the glaciers, to descend into the Gangotri valley and beyond. The sages called it 'Gomukh', because, in the distant past, it probably appeared like a cow's mouth.
Day3: Gaumukh-Tapovan
The trek from Gomukh to Tapovan is an ascent crossing over the Gaumukh glacier, and as one climbs, the view of the surrounding peaks becomes clearer, and appear to be just a stone's throw away! Tapovan is known for its b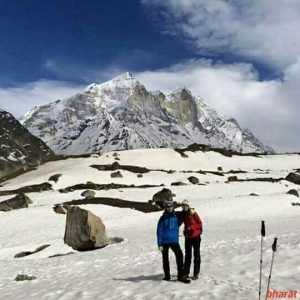 eautiful meadows that encircle the base camp of the Shivling peak, visited by hundreds of tourist, mountaineers, trekkers and ascetics every year.
The campsite is grassy, with wildflowers as far as the eye can see, making this a very spectacular area for camping. Herds of Bharal (blue mountain goats) are a common sight from here as they clamber the precarious mountain ridges.From tapovan you can see the view of the glacier peaks the Bhagirathi I, II, III (6454 mt), provide an equally impressive backdrop. It is also the little wonder that this tranquility attracts Sadhus and saints for extended meditation during the long summer months.
Day4: Tapovan – Bhojwassa
Enjoy the view of the golden rays of sunrise on high peaks, and the crisp and dazzling morning sunshine on the campsite. Post breakfast makes a swift descent down to Bhojwasa, covering the seemingly endless trek in a matter of hours. Arrive Bhojwasa and camp.
Day 05 : Bhojwassa – Gangotri
Enjoy the view of the narrow valley through the dense forest ..